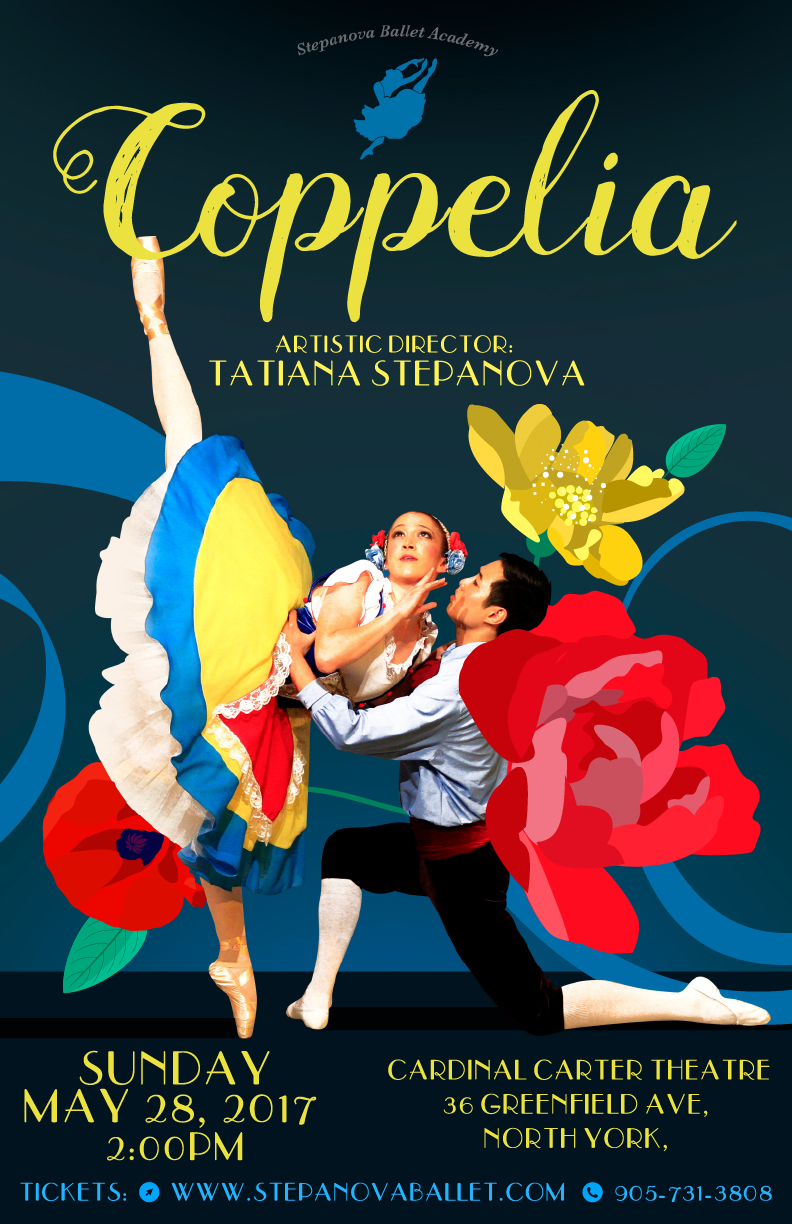 Stepanova Ballet Academy presents
Coppelia
Sunday May 28 @ 2:00PM
Cardinal Carter Theatre (Yonge and Sheppard)
36 Greenfield Ave, North York
For tickets Contact us at 905-731-3808 or info@stepanovaballet.com
Coppelia has long remained one of the jewels of the classical ballet repertoire, as it represents one of the few true comedies of ballet.
Coppelia is the romance between Swanilda and Frantz together with the story of doll-maker Coppelius, whose greatest desire is to create a doll with a soul. Frantz promptly falls in love with the automaton Coppelia, believing her alive, but eventually recognizes the true state of affairs and returns to Swanilda.
Technique, Discipline, Confidence
Stepanova Ballet Academy is excited to announce Summer Intensive Program. Curriculum includes ballet (including pointe, variation, partnering), jazz, contemporary and character, with the focus on ballet.
In this program students will discover new potential and master unexpected levels of ability and artistic creativity in a welcoming environment with a faculty of dedicated and highly qualified instructors.
On behalf of Alexis, we want to thank you all for an exceptional experience! Alexis loved every moment and her passion for ballet has grown even more.   She has grown technically in a short time and "every instructor was amazing" (I quote).  Stepanova Ballet Academy is TOPS and  we thank you for this opportunity.  It was an honor having Alexis train here.  We hope to be back to audition next summer.
Cathy
Ballet lessons are offered for all levels of commitment and ability
We're accepting new students now
Students get a unique opportunity to learn from highly gifted professional instructors, and are also afforded the unique opportunity to take part in originally choreographed, professional productions.
Register Now