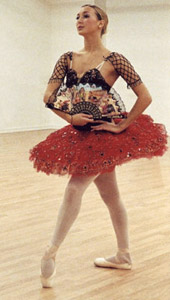 I began to take Ballet classes when I was six at the National Ballet School Junior Associate Program, completing the Certificate V Program. I went on to dance in Ballet Jorgen Youth Ensemble and Interplay. In grade seven I began Cardinal Carter Academy for the Arts, where I majored in dance. Though I was accepted to Quinte's full time ballet program I preferred to stay in Toronto and train professionally with renowned Prima Ballerina Mme. Tatiana Stepanova, in an after school program. This is where my great journey with ballet began. With Tatiana's attentive and personalized guidance I started to really dance. Not just technically but with true aesthetic quality.
Tatiana gave me so much confidence that I dared to audition for the American Ballet Theatre Summer Program and to my surprise, but not Tatiana's, I was accepted. Since then I attended the American Ballet Theatre Summer Program for three consecutive years. The first year I attended ABT in Alabama. The second and third years at ABT in California where I was cast as a lead role in my level both years. Because of Tatiana's nurturing training I was able to improve significantly.
Studying under Tatiana is like studying in the Bolshoi school. Her professional teaching is ethical, athletic and demanding. In Stepanova Ballet Academy I feel that we are like a family. Tatiana is caring and supportive, she is like a mother to us. There no competition, jealousy or hatred between piers. We compete with ourselves to be the best we can be.
Upon 2004 graduation from Cardinal Carter I received the Ballet Award, an award given to the best classical dancer with the highest mark. During my training I was in professional dance performances, charities and fund raisers. My repertoire includes, but is not limited to; Pas de trios from Raymonda, Nutcracker, Farewell My Concubine, Gardin Anime, Bayadere, Kitri Variation from Don Quixote, lead in Tango choreographed by Melissa Allen. I am honoured now to to be one of the seven dancers accepted to Palm Beach Atlantic University as a major in Dance, where I will study under Demetrius and Kathleen Klein, founders of the Demetrius Klein Dance Company.
While in Palm Beach I have also had the privilege take master classes with dancer/choreographer Dennis Wayne, who sees in me "potential for great success." I will also continue to train under Mr. Wayne when I move to Palm Beach next year. Dennis Wayne was a soloist with American Ballet Theatre, and has co-founded, with Paul Newman and Joanne Woodward, the successful dance company Dennis Wayne's Dancers.
Tatiana saw potential in me and push me beyond what I thought were my limits. "I jumped over my own head" She would say, in regards to my improvement. If it wasn't for her I would not have been able to come so far in the pursuit of my dreams.
—Chiara Casiraghi