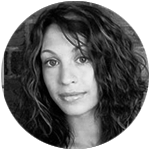 For any artist, it is necessary to find the right environment to nurture and allow the talent to blossom. Amelia had danced from age 4 in many studios in Ontario and developed in all disciplines (tap, acro, jazz and ballet) as well as pursuing voice and musical theatre. From age 11 she went away to the major Canadian and American ballet summer schools because she "needed it for jazz and musical theatre, not because I love it", including the International Ballet Competition in Mississippi, and still was focused on jazz, until she met Tatianna and came to Stepanova Academy.
Amelia began studying with Tatianna through private lessons to prepare for an audition and, within a year, had come to the school full time, and had found her love of ballet and a desire to dance professionally. Her last two years of high school were spent at Stepanova's, and was honoured to dance the role of Doll in Copelia performance in 2006, and the lead of Radish in Chippolino for her graduation year in 2007.
With Tatianna's heartfelt support and repertoire training, Amelia auditioned during the spring of 2007 for ballet companies and was successful in being offered several apprenticeships in the United States. She was invited to dance with the Salzburg Ballet summer tour, 2007. During the fall, 2007, she is touring with the Connecticut Ballet in their performance of Sleeping Beauty (with Brazil's Celia Kirche and Vitor Luiz), and will return to Salzburg in November, in the new professional program and tour with the company in March, 2008. "I feel that Tatiana has been a gift to my heart and has taught me not just to dance but the love of dance".
—Amelia Eskedjian