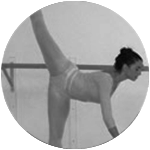 As far back as I can remember (the age of three), I have been twirling, kicking, and leaping my way across the stage. My professional training however didn't start until I was ten years old and was accepted into the National Ballet School of Canada's professional program.
I stayed at the school for four years (grade five to eight) and felt it was necessary to leave in the hopes of going to a "normal" high school. My passion for dance did not die with my leaving the professional school as I found Tatiana Stepanova. At the time, Tatiana was working at The Bayview Ballet School where I trained with her for three years.
During this time I attended professional summer training programs such as ABT (American Ballet Theater) Detroit and California, as well as Kirov Academy (now known as the Universal Ballet Academy). I am currently studying with Tatiana at The Stepanova Ballet Academy. As it is my last year of high school, I am auditioning for University dance programs in the states such as California Institute of the Arts, NYU, Butler, and Juilliard–of course with the help of Tatiana Stepanova.
—Mellisa Bourkas