Founder and Artistic Director Tatiana Stepanova herself is a Prima Ballerina, having graduated from the world-renowned Bolshoi Ballet Academy in Moscow, Russia. And now, some of Tatiana's students from Canada have been selected to study full-time at the Bolshoi Academy. This is proof that Tatiana's ballet training is second-to-none, since the Bolshoi only accepts a select few highly talented dancers from across the world each year.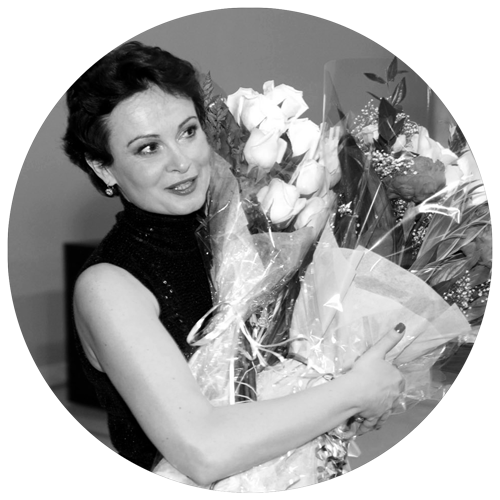 Under the artistic direction of Tatiana Stepanova (Prima Ballerina, People's Artist of Ukraine and Graduate of Bolshoi Ballet Academy in Moscow) Stepanova Ballet Academy has become one of the premier ballet schools in Canada. Mme. Stepanova herself is a Prima Ballerina, having graduated from the world-renowned Bolshoi Ballet Academy in Moscow, Russia. For many years she had a full career as the Principal Dancer for the renowned Odessa State Ballet Company in Ukraine, and has toured all around the world.  In addition to being a Prima Ballerina, Tatiana Stepanova also holds the multiple honors and awards including "People's Artist of Ukraine" – and recently the "Queens Diamond Jubilee Award" for outstanding contribution to Arts and Culture in Canada. Tatiana was invited to perform in the Gala performance honoring the almunae of Ballet Russes in New Orleans in 2000. This momentous reunion occasion was captured in a documentary film "Ballet Russes" released in 2005. Other film credits include Universal Pictures, the American Girl Film series (Girl of the Year: Isabelle Dances Into the Spotlight), Tatiana Stepanova, Ballet Choreographer.
Tatiana proudly uses the prestigious Russian Vaganova Method of instruction.
This precise technique and system of instruction promotes the development of lower back strength, arm plasticity, and all the extra strength, flexibility and endurance needed for ballet You'll be able to see the benefits immediately in your child's improved posture. In fact, the entire sculpting and toning of the body happens naturally with ballet.
Then comes flexibility and enhanced creative expression.
And those are just a few of the positive effects of having your child study ballet. Tatiana's students also gain valuable life skills such as…
self-discipline
motivation
creativity
improved critical thinking skills
self-confidence
self-esteem
…and more!
Learn More About our Programs
Ballet
Repertoire
Pointe
Jazz
Contemporary
Character
Highly skilled, truly talented teachers
A strong ballet curriculum
Perform in professionally-staged productions
Performing opportunities with Toronto International Ballet Theatre
When you enroll your child at Stepanova, you'll value the real-world experience given to students who are ready to perform. At the right time, your child will be given the opportunity to perform in many outstanding and famous classical pieces – with professionally-staged productions, full audiences, and all the trimmings.
Stepanova Ballet Academy has taught me the beauty and physicality of classical ballet. The Vaganova training is intense and pushes you to the very best of your abilities focusing on clean and strong technique. Madame Stepanova nurtures her students teaching them how to work smart and effectively. Alana
Our primary focus is to create a professionally-driven atmosphere, just like the real world.
At Stepanova, students are exposed to a professional environment – but without the pressures of competitions or tests. Instead, at the end of the year, everyone at the school participates in the year-end production. It's not just a standard dance recital. Rather, it's a highly professional and originally choreographed production with custom costumes, sets, backdrops, and sometimes professional dancers. These shows attract a full public audience – beyond that of the parents and family members of the dancers. This is where your child will shine – because of the training provided here.
Tatiana wants her students to strive to reach their full potential.
She knows how to bring the best out of them, and she gives them the tools to do so. Every hour of training is customized to meet your child's unique needs and goals. If you want to be a professional, there's a path for that. If your child just wants a "fun" form of after-school activity that will open up vast new horizons of opportunities, there's a different path for that, too.
But one thing is clear…
If you want only the very best instruction and training for your child – and especially if you're serious about pursuing ballet at a professional level, – then you definitely need to enroll in the Stepanova Ballet Academy as soon as possible. New classes are forming now, and applications are being accepted.
Signup Today
Join one of our ballet classes today.